I've made a few small interim changes to URL.ie. I say interim, because I've a whole new code base in beta testing (with a few new handy features).. but I don't have the time to fully test it yet (especially under load). So here's a quick look at the new features (and the reasoning behind them).

Pasting from Clipboard:
This was present in the last version of URL.ie but I've had a few comments from annoyed IE7 users about the constant access prompts IE7 fires up about clipboard access, whether you want to use the clipboard feature, or not. So I've change it slightly. You'll now, if using IE6/7, have an extra link under the URL input box to paste from the clipboard.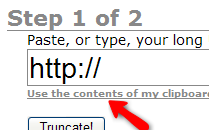 If you click on that link (using default security settings in IE7) you'll get an IE prompt to allow/disallow access to the clipboard. It means there's one extra click for users of this feature. Given that most use the bookmarklet, most IE7 users will now have 1 less click to use (and should be a lot less annoyed!).
Copying generated URLs to the clipboard:
In the last version, if you used IE (and only IE) your generated URL was copied, automatically, to the clipboard. 3 problems with this.
It overwrote your clipboard contents without your permission
It was an IE-only feature
It causes IE7 to pop up a clipboard access alert (whether or not you want to use that feature)
Now, it's an optional feature, which does require 1 extra click to use! It uses Flash (so you must have Adobe Flash installed, and not disabled (like with the FlashBlock extension in Firefox). You must also have JavaScript enabled (but you always did). With the Flash method, there are no more annoying alerts/prompts from the browser, and many more browsers are now supported. If you click on the text box with your new generated URL, you'll get your URL automatically copied to the clipboard.
New sharing options for your generated URL:
On the generated URL page, you'll now have 4 choices (2 more than previous) on what you want to do with your URL. Firstly, you can click on the text box to copy the URL to the clipboard automatically (or manually if you don't have JavaScript or Flash). Secondly, as was, you have a link to your new URL which you can click to visit, or right click for browser options (like add to bookmarks). Now there's 2 more new features! Thirdly, you can post your new URL straight to Facebook, Twitter or Pownce (by clicking on their respective icons), or to a whole host of sites/web-services using the extended dropdown (provided by AddToAny.com).



Finally, you can also get generated code for use in Forums (UBB/vBulletin supported for now) by clicking on the textbox to automatically copy the forum-specific code to link to the new URL.


Generate URLs of the page that link to URL.ie ("referer"):
This won't appeal to many, but there was one specific request for this, and here is how it works. A website (any website) links to URL.ie. You'll be presented with a new link under the URL input box which will automatically populate the URL field for you.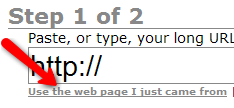 Because of its limited use, I haven't made this a default and, so, 1 extra click is required.
As always, I value your feedback and any new suggestions.