Irish web awards, until now, have been steeped in controversy over their high entry fees, questionable judging, and strict/expensive entry criteria (e.g. Golden Spiders).

Damien Mulley, no stranger to independent awards ceremonies without entry restrictions, has organised the Irish Web Awards, sponsored by Moviestar.ie.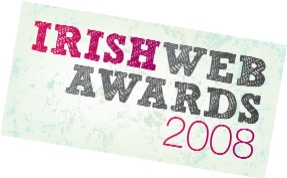 So, what's different about these web awards?
First, and foremost, there is no entry fee. All nominations are free. No criteria like you must buy a table at a black-tie event to receive your award. No criteria like you must sponsor a category to be considered.
Secondly, it's run by the community for the community. Damien is well know in Irish internet circles (amongst other circles!), and has a good history in independent awards ceremonies (i.e. the successful Blog Awards). He also has the ability to motivate others to chip in, making it, truly, community-run awards.
Thirdly, categories and score-cards are all laid out in advance. You know, before anyone enters / is nominated, exactly what's expected. While most other awards do give categories in advance, few (any?) give the score card. This is hugely important if you want your awards to be awarded in an open, transparent, accountable fashion, which is the modus operandi for these Irish Web Awards. Immediately, all accusations of fixing, that riddle the other main Irish awards are knocked on the head.
There are more reasons why the Irish Web Awards are better, but those are the main reasons for me. Having built sites that are mainly not in the Irish market, and not for public use, I have no vested interest in these awards, only as a bystander.